The Voyager | Solar System Planetary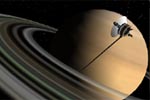 This three minutes long movie is about the NASA's spacecrafts Voyager 1 and 2.
They were launched on 1977 and explored all the giant planets of our outer solar system, Jupiter, Saturn, Uranus and Neptune and 48 of their moons.
Today are the most distant human-made object in space and still working.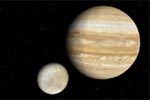 By clicking the 'planetary' button you can explore the interactive Solar System Planetary.

Use the keyboard arrows to move around the planets and their moons.

You can use the short-cuts buttons to go directly too.