Rovers over Mars | The Game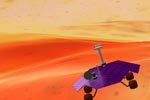 Interactive 3D Online Game based on the NASA's Mars Exploration Rovers 'Spirit' and 'Opportunity'. You can choose between three diferent speeds: from a slow and realistic to a crazy and funny race.
Use the keyboard arrows to move around the red planet and find rocks. Press the button for analyse and discover water trace.
This page was Macromedia 'site of the day' in 4-2-2004 and more than 270.000 people play online the game free in the last 3 years...
And the answer is 'yes there is a rock with water trace...'.