Pole Position | Car Game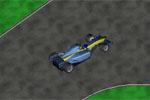 Free Online car game based on the Formula
One training and the 'pole position' rules.
We start the production of this game in the summer of 2005, when Fernando Alonso wins his first F1 Driver's Championship title.
It stays unfinished for more two years long waiting for sponsors or buyers.
At last now we share the game like a La Bella Lola game.
Use the keyboard arrows to drive the car and accelerate. You can make 3 laps to get the best time. Drive carefully and don't crash the car.
Submit your score and win the 'La Bella Lola Pole Position'.