Numbers Storm | Mobile Game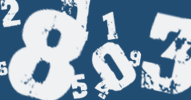 This simple and easy game is perfect to fill time.
Use the mobile keypad to hit the numbers fall before it drop.
For a long time we want to make a game like this: simple, easy to use, small, low graphics. A true experiment about what is funy and what not.
The idea become from an old game we play in a Commodore 64 when we were childs. We don't remember the name and now its impossible to know (there are more than 18.000 games for C64!).
We test it in a Nokia 7610 - Symbian s60 series. Perhaps works for other devices.
Download to your mobile device (Right-Click Save As...) Flash Lite.